It's been a rough six weeks for bond investors. Since hitting a low of 2.8% in early May, the yield on the 30-year U.S. Treasury bond has spiked higher to more than 3.3%. And as interest rates go up, bond prices fall... You can see the effect in the iShares Barclays 20+ Year Treasury Bond Fund (TLT)...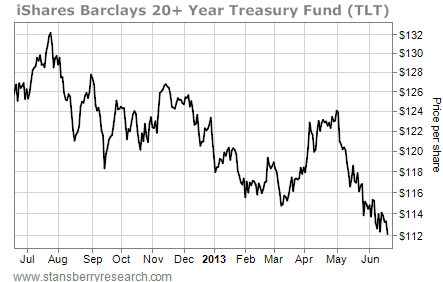 TLT is down more than 9% in just the past month and a half. It's now trading at its lowest price in the past year.
And as rough as it has been for bond investors, the Fed is suffering worse. You see, for more than four years now, the Fed – through its multiple quantitative easing programs – has been the world's biggest buyer of Treasury bonds. So now with interest rates on the rise, the Fed is underwater on all of the purchases it made over the past year. Not only is the Fed printing money to buy up U.S. Treasury debt – a stupid thing to do anyway – it's now losing money on the bonds it bought. And by the look of the following chart, it may be about to get much worse...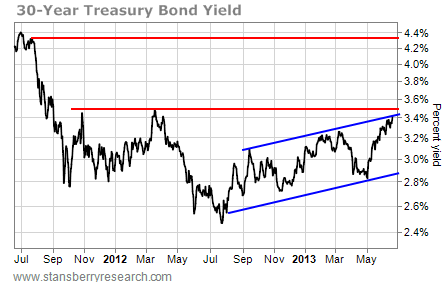 Since last August, rates have been steadily working higher in a series of higher highs and higher lows. That's a rising-channel pattern (the blue lines)... and it's the definition of an uptrend. The chart is now approaching resistance at about 3.5% (the first red line). The previous two times it touched that line occurred when rates were in a downtrend and momentum was working in favor of lower rates. The resistance line held and prevented interest rates from rising more. Today, the momentum is in favor of higher rates. The chart might not break through resistance on this current attempt since it's already extended. But if the chart pulls back and forms another higher high, rates will likely break out to the upside on the next rally attempt. The next resistance level is all the way up around 4.4%. At that point, the Fed will be losing money on most of the bonds it purchased over the past four years. That's not a good track record. I suspect Fed Chairman Ben Bernanke will do everything in his power to keep rates from rising. So don't look for any tapering of quantitative easing any time soon... no matter what Bernanke says. But in the end, the market is just too big to control. Maybe that's what the action over the past six weeks is trying to tell us. – Jeff Clark